Source: Shutterstock

Philanthropy is always exciting because it challenges us to creatively use our resources to address issues that affect us, our families and our communities. As philanthropy is inherently individual—each generation embarks on the giving journey in its unique way. For us, technology has significantly disrupted our lives and changed the way donors and organizations interact—how they give, how they work together to create social change and how they hold each other accountable to maximize social good.
The internet has facilitated access, connectivity, transparency and accountability to a whole new level in the giver – receiver paradigm but we aim to take it one step further at Pass It Forward. We believe Giving 3.0 creates a multi-dimensional philanthropic landscape by bringing together already available online and offline relationships into large-scale collaborations —and releasing the power of these networks and their good intentions—into multiple layers of collective global action that is passed forward infinitely.
Giving 1.0 was a static information channel between the giver and the receiver. Nonprofits leaders designed their programs and solicited funds to execute them. Mass mailings and many non-personalized tools were used to reach unqualified donors and identifying potential donors were expensive and time-consuming. Donors gave reactively and usually to well-known organizations. With little data and transparency, they gave emotionally without thinking about how to maximize their impact.
The shift from giving reactively to giving proactively began to change with Giving 2.0. Online intermediaries were built and crowdsourcing allowed us to bring together the desire to do good with the ability to act, beyond geographic boundaries. We began to give collaboratively and with enough information at our fingertips, we started to give strategically. Giving 2.0 gave users the ability to share this information via social media. We now have interactive platforms used by millions who organized themselves into their networks based upon their social needs and interests. Intermediaries facilitated demand and supply in the giving world.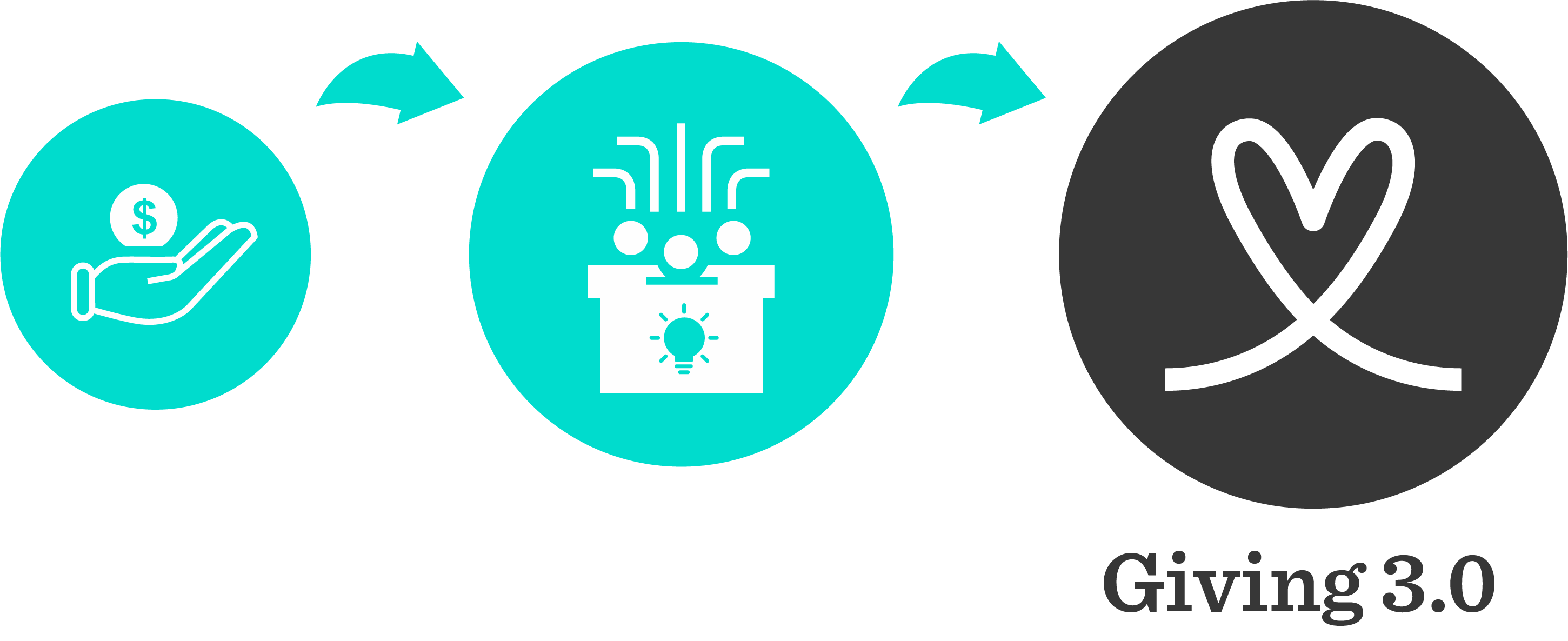 Giving 3.0 comes full circle and instead of focusing externally on pushing information out, we will focus on the natural needs of the donor and connecting them directly to the beneficiary. Experts are referring to web 3.0 as the semantic web, i.e., data-driven. The data comes directly from the user and technology will adjust to the needs of the user. In philanthropy, gifts are the most meaningful when the heart and the head are aligned. Information, represented by the head, is now fully accessible. However, donors are still very disconnected from the beneficiaries they support. Pass It Forward allows donors to see how beneficiaries use their gifts. On top of that, donors see also how beneficiaries are passing forward the generosity they received. Knowing and seeing the multi-dimensional layers of goodness they generated will encourage the giver to do more. The technology at Pass It Forward allows the giver to act, react and adjust accordingly, thus multiplying and maximizing their philanthropic intentions. "End beneficiaries" do not exist as the gift is passed forward again and again.